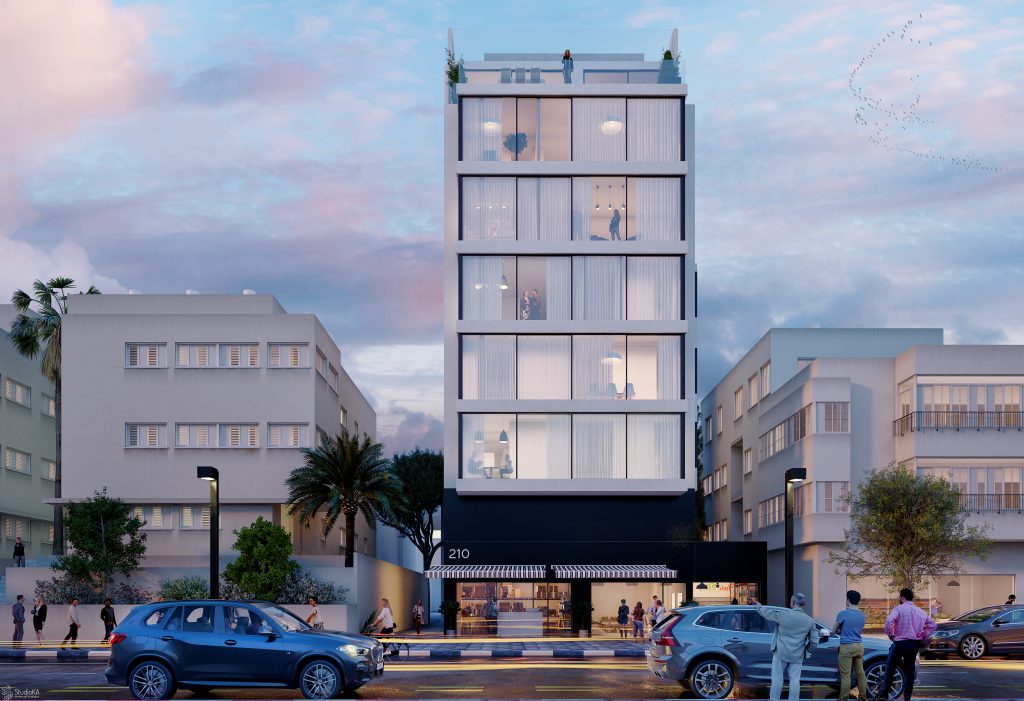 Ben Yehuda 210 project is a TAMA 1 project in one of the most prestigious areas in the city of Tel Aviv, it also has a commercial frontage, which adds a lot of demand to the area. .
As part of the project, the building will undergo significant upgrades and renovations and will be transformed from an old and dilapidated building into a modern and renovated building, with an impressive appearance and suitably designed for the area.
This project includes strengthening and general renovation of the building, construction of an elevator and the addition of 3 new floors that include penthouse apartments with a rooftop pool and spectacular views of the Mediterranean Sea.
In addition, existing tenants will benefit from additional construction and expansion of their existing apartments and upgrading the facade of the building and lobby At the end of the process, the occupants of the building will enjoy the benefits of a new building that meets the highest design and engineering standards and large and spacious apartments that are reinforced against earthquakes.
Technical Specifications​
All apartments have been designed to provide residents with the highest standard of living. The apartments offer luxurious planning options and a host of extras.
General Building:
• A luxurious main entrance lobby designed in architecturally , including granite flooring and granite walling.
• A quality elevator from a leading manufacturer, with an option to operate as a Shabbat elevator.
• Jerusalem stone on the external cladding.
• Perfect environmental development.
• House protected spaces, including a filter by device in each apartment.
• Unique architectural design as per customer requirement.
• Under floor heating.
• 60/60 cm porcelain flooring, (optional upgrade to 80/80 cm) with a wide choice of designs.
Bathrooms:
• Monobloc, suspended toilets with a concealed washing mechanism.
• Ceramic wall cladding in a variety of sizes and shades.
• Bathroom cabinet including integral sink and mirror.
• Decor in shower and bath rooms – 4 models to choose from.
• Acrylic bath.
• Preparation for heating.
• Anti-slip flooring 33 / 33 cm tiling.
• Busy / free lock.
• Water heating – electric heater + thermosolar system (solar water heater)
• Designed faucets.
Kitchen:
• Luxurious kitchen.
• Kitchen cabinets Upper and Lower cabinets made from laminated ply wood boards, including a standing unit for an oven and a built-in oven.
• Preparation for a dishwasher close to the sink.
• Flat-mounted acrylic sinks.
• Caesar stone work surface in a variety of shades.
• Quiet drawers.
• Designed faucets with a flexible tap-end.
• Integrated handles.
Electrical power:
• Three phase electric power * 3 * 25 amperes.
• Preparation for a heating stove in the bathroom and shower.
• Intercom at the entrance to the apartment.
• Preparation for air conditioning.
• Service outlets) water protected) in the kitchen and in bathrooms.
Sun terraces:
• Wide balconies
• Sukkah balconies from the living room
• Garden faucets on balconies
Doors:
• Designed steel door
• Quality interior doors filled with a variety of flexboards, including designed handles.
Windows and Aluminum:
• High quality aluminum and glass windows.
Double glazed windows except in the safe room and bathrooms / toilets.
• Preparation for shutters in the security room, and preparation for netting in all windows.
• Electric roller shutter in living room.
• Aluminum roller shutters in bedrooms.
• Especially wide window openings.
Building the future of Jerusalem
JRD - Building the future of Jerusalem